Mt Cargill
Well, it's been snowing or raining for most of the last week or so. On Monday 23rd we had another snowfall right down to sea-level and snow kept falling through Tuesday - there's still snow falling on the hills. It's ridiculously scenic, but cold, so we didn't keep taking photos.
Last Sunday, however, Kieran nipped off for a hike with the Otago Tramping and Mountaineering Club up nearby Mt Cargill. The OTMC have been building a track up Mt Cargill from the northern motorway - the Skyline Track - so we followed that. It's a bit of a swamp, with some fairly solid mud patches. The views from the top are pretty reasonable, but we could see the snow clouds approaching, so we legged it off the summit at speed.
Here are a few more happy snaps...

A panorama of the Otago Peninusla, stretching from Tairoa Heads on the left, right across to Dunedin city at the far right. We live in Macandrew Bay, the village about 2/3rds of the way along from the left.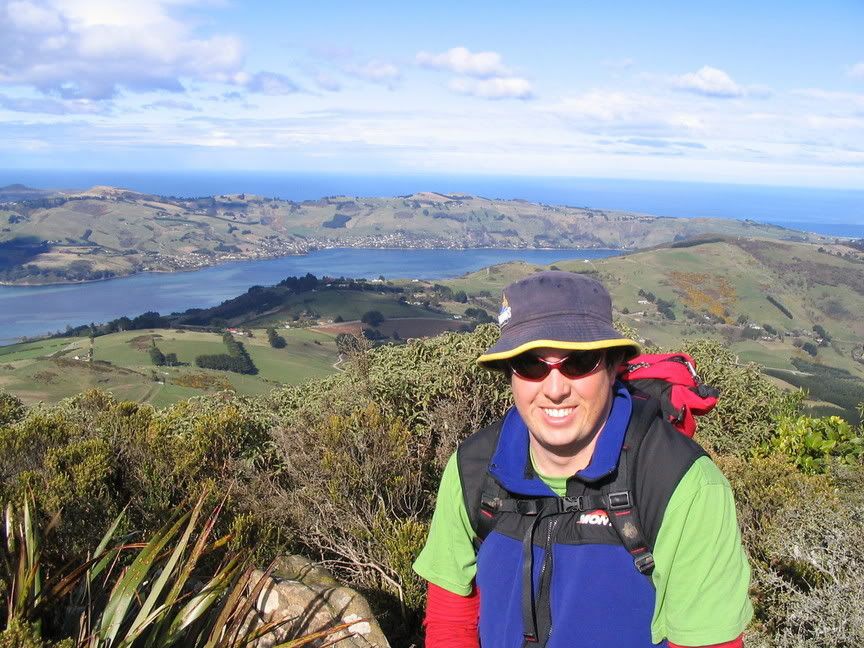 Kieran at the summit - Macandrew Bay (and our house) across the harbour behind.