Meandering in the McKenzie
Last weekend Kieran took the opportunity for an adventure in the hills near Twizel, in the McKenzie Basin, with Dan McKay (a former Bates St housemate) and Dan's cousin Sarah. Eventually tracking Dan down by the roadside near Lake Ohau on Friday night, we got some sleep then plotted our weekend plans the next day.
We eventually decided to walk up the Hopkins and Huxley Valleys to Broderick Hut, on the slopes of the Main Divide, deep in the Ohau conservancy. The walk went well, although despite Dan's claims that his Corolla had four-wheel drive powers, we weren't able to make much progress along the road to the start of the walk, so we had an 8km march in and out of the Hopkins Valley.
Once we reached Monument Hut, however, the walking was much nicer, with spectacular peaks rising to nearly 2600m around us and deep, lush forest surrounding flat valley floors and clear, cool glacial rivers. As always in NZ, there was some rain and bad weather up closer to the main divide, but as we walked back out on Sunday, the weather cleared again to another spectacular day. A great walk, all in all, even if we did all end up a bit footsore from the long slog in and out.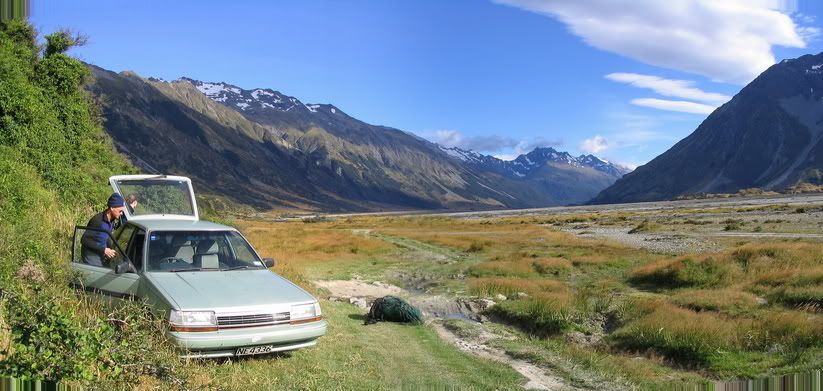 Dan's car fails to progress into the lower Hopkins Valley.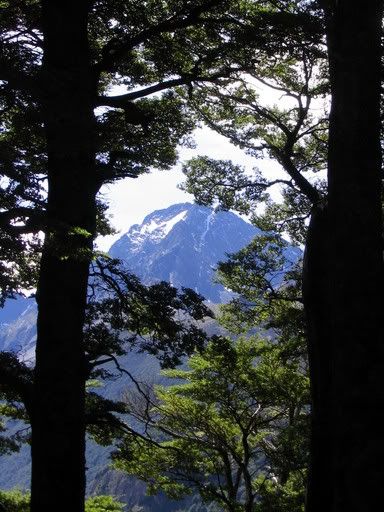 Mt Glenmary - 2590m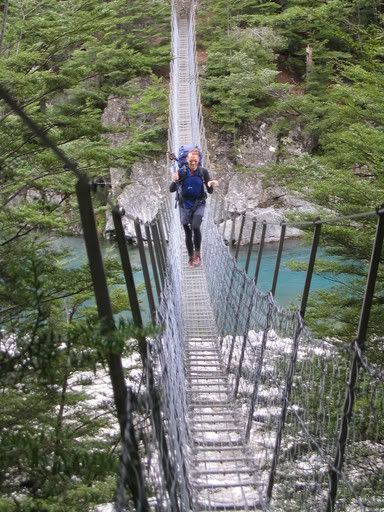 Dan crossing the swingbridge into the Hopkins Valley
Kieran and Dan, with Mt Glenmary, Glenisla and the Dassler Pinnacles behind.

The upper Huxley Valley and the wall of the Main Divide, from just behind Broderick Hut.
A few days later Kieran and Rochelle made the long drive up to Christchurch to use one of Kieran's Christmas presents - tickets to the Aus v NZ one-day international cricket. We had a fun night, though the less said about the drive up there or the result, the better. (Those who are really interested could click
here
)
Anyway, it was a beautiful NZ evening with a lovely moonrise over the stadium, and we don't mean the streaker...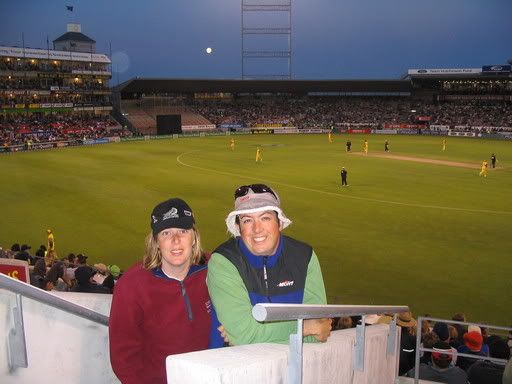 Jade stadium, Christchurch - 22 Feb
This coming weekend sees us off to the NZ rogaining champs, near Middlemarch in the hills behind Dunedin. For a variety of reasons we aren't competing, but we have been dragooned into doing some of the catering. Wish us luck...
Hey there. If you're reading this blog, could you drop us a line in the comments and let us know who you are? We're intrigued to know who's reading this.
Cheers K&R