Otaaaaaaaaaaago!
Hi all
It's not that we haven't been up to much recently, it's just that it hasn't been worth reporting back on. Rochelle's working 3 days a week in Christchurch, which is keeping her busy, and Kieran has been doing temp work fulltime for the past few months whilst also trying to finish the Masters degree he's been working on. With 2 weeks to go in the degree, he's finished up temping and is now tied to the PC fulltime trying to write another two brilliant papers to wrap things up. Days are getting longer here (sunset is about 8pm already) so we're going wandering and exploring round Dunedin after work a bit, but life is pretty quiet on the whole. Sorry.
We're in the midst of plotting and planning where we'll go next. Canberra at the end of the year, or early next year, is looking the likeliest bet, but there could always be a few surprises. We'll let you all know when and/or if we ever make a decision.
The only recent photos we have of any note are from a trip to see the mighty Otago Rugby side play the old Enemy, Cantebury, at Otago's home ground, Carisbrook - also known as the House of Pain. It was a great day - warm and sunny - aided by the fact that Otago piled on 4 tries in about 15 minutes in the first half to absolutely belt the Cantabs early, then hung on for a dramatic win in the second half. We were standing on the remnants of Carisbrook's famous terrace - best place we've ever found to watch rugby.
Go Otago!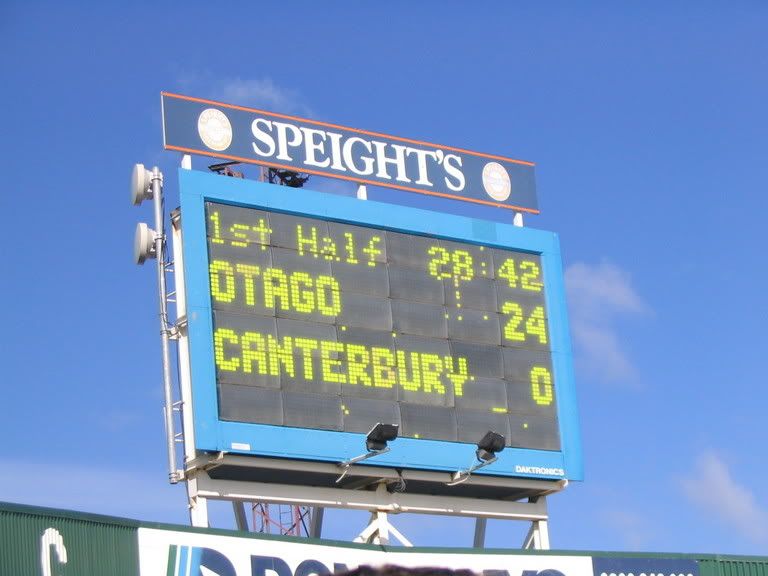 http://i23.photobucket.com/albums/b371/rochelleandkieran3/Carisbrook/Carisbrook2.jpg
Kieran's finished on the 21st of October - so hopefully we'll get out and be more exciting after that.