Lots of mountains, not so much snow...
Wye Creek, as seen from Wye Saddle.
The original plan for the weekend had been to celebrate Chris and Alice's birthday's with a gentle, cruisy ski tour out on the Pisa Range, between Wanaka and Queenstown, out to an easily accessible hut. On Wednesday we had a group of 8 people organised for the festivities. By Friday this had dwindled to three - Kieran, Chris, Alice - as illness and a poor weather forecast took their toll (Rochelle was a little unwell during the week and decided to have a weekend off).
As I waited at the base of the access road, a car drove up with just Chris in it - Alice had bailed that morning when the weather turned pear-shaped in Queenstown. So then there were two. We decided we'd drive up to the start point, sit in the XC ski-field cafe and wait for the weather to clear. As we slurped down a hot drink (soy hot chocolate anyone?) the weather broke, right on cue as forecast, to reveal...
Well, to reveal not very much. NZ's appalling ski season so far meant that only the south and east faces on the Pisa's had any snow on them, the north and west aspects were just tussock. Faced with the prospect of walking to Kirtle Burn hut, we decided that discretion was the better part of indolence and bailed back to Queenstown.
Night skiing at Coronet was deemed to be a suitable substitute. At least I now know why it's nicknamed "Concrete Peak" and a few hours of bone-shaking telemarking ensured that Christian woke up on his 30th birthday feeling his age.
On Sunday we got up late and "assessed the situation" - that is, we lazed around and speculated on what might be a suitable location for a day trip. Saturday's bad weather had raised the avalanche report to high, and the lack of snow cover meant that most trips would involve a fair chunk of walking. In the end we decided to drive to the Remarkables Ski Field and skin up to Lake Alta, then, depending on conditions, we might continue as far as Wye Saddle.
So we did. We skinned through the resort to the frozen lake below Double Cone - Chris and Alice marvelling at the joys of new skins. Once up there we did some tranceiver practice and started digging a snow cave. At some point, two of the original group who'd slacked off due to injury suddenly appeared, having decided that their colds had recovered enough to go resort skiing. So we made them dig the snowcave for us while Alice and I skied across the Lake and up to Wye Saddle. In the end the skin up to the saddle was more fun than the ski down, as the north facing slope had become sticky, wind-affected and 'orrible, spitting us both out a number of times.
By the time we got down the snow-cave was now a five-person palace, the diggers were thoroughly saturated and it was time to ski down through the rocks and get ready to drive home. NZ really needs more snow...
I took a few photos on Saturday - none of them very good, but here they are nonetheless.
Alice gearing up for the decent. Remarkables ski field behind.

Lake Alta from Wye Saddle.
Standing on Lake Alta - Wye Saddle behind.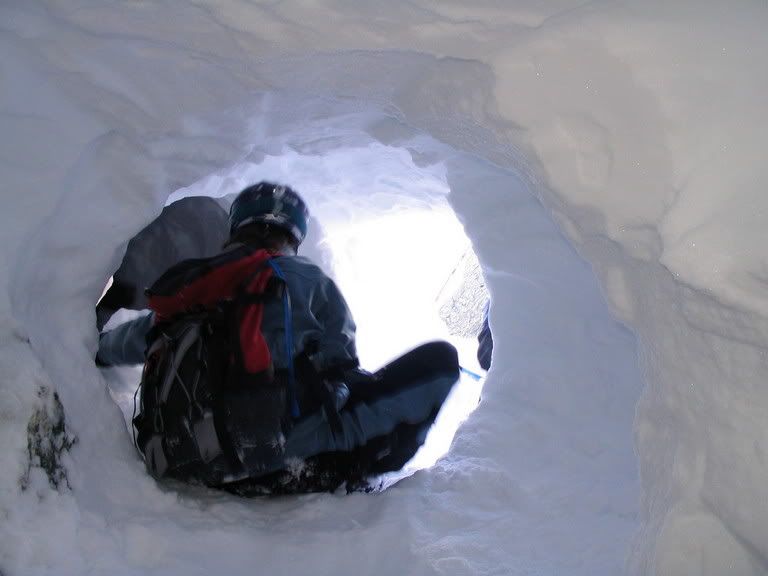 Inside the snow cave.
For those who care, this weekend we've got a few things on. Friday night we're hosting a visiting Australian Air Cadets officer on behalf of Rochelle's Air Training Corp. On Saturday we're going abseiling as part of a mountaineering course with the local branch of the NZ Alpine Club, then on Sunday we may head back to SnowFarm on the Pisa Range to attack the NZ
Ski Orienteering Champs
again. Oh, and we're starting Spanish lessons on Thursday night.
One last thing, the first phase of Rochelle's work project has finally finished, and it appears that the second phase will take her to Christchurch on a regular basis - so if you can't reach her here at Casa Porterfield, she may be headed north.