On a Tiki Tour
Apparently "Tiki Tour" is a New Zealand-ism for a trip to lots of places in a short time. We're on one. We're currently at Rochelle's parents place just outside Hamilton, on the North Island. Tomorrow, very early, Rochelle flies to Gisbourne, then onto Napier, then eventually back via Palmerston North to Hamilton on Wednesday, which coincidentally is her birthday. After dropping Rochelle at the airport Kieran's going to head off on a three day road trip to explore the North Island a bit. Maybe up to Taupo and the Central Plateau volcanos, or maybe the east coast.
We'll be spending Christmas here with Rochelle's family, hopefully with some water skiing on the local lakes and fishing trips up at the Coromandel peninsula thrown in to keep things entertaining. Then on New Year's Eve we'll head back down to Dunedin, before driving up to the north end of the South Island for a week of seakayaking and tramping in the Abel Tasman National Park. Should be stunning.
And speaking of stunning - Rochelle had to go to Queenstown last weekend for work (taking high resolution photos of Queenstown Airport). Kieran tagged along and we threw the mountain bikes in the car so we could do some riding on the shores of Lake Wakatipu. Queenstown is an interesting place - it's an unexpectedly busy, urban centre on the shores of a shimmering glacial blue lake, with black, snow-capped mountains rising abruptly on all sides. The spiritual home of bungy-jumping and catering to the "adventure-tourism" crowd Queenstown is not exactly cheap and relaxing, but it's certainly memorable. Here are a few photos from the area...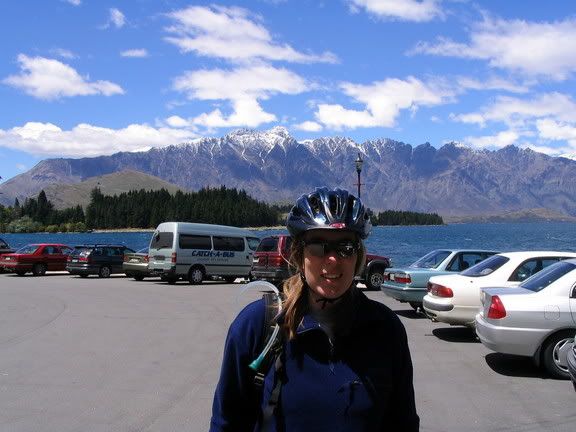 Rochelle in Queenstown with Lake Wakatipu and The Remarkables mountains behind rising 2000m out of the lake. The airport is between the lake and The Remarkables - it must be an intimidating place to land a plane.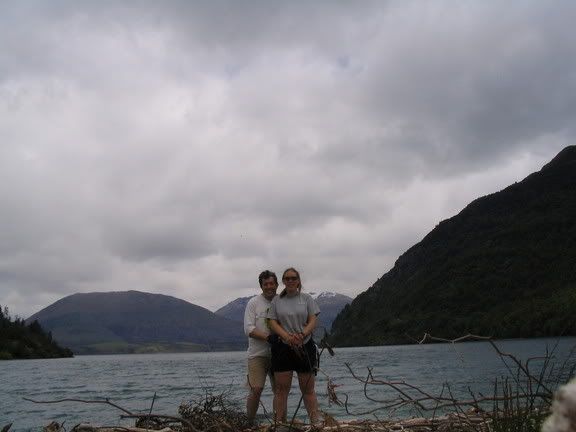 At Bob's Cove on Lake Wakatipu.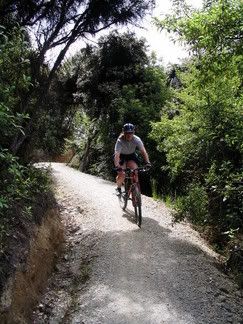 Rochelle on the 12 Mile Delta track on the shores of Lake Wakatipu.
Who knows when the next update is likely to be, but it'll have Christmas, New Years and probably Abel Tasman NP photos in it. It'll be worth the wait, we
promise...